http://www.iccsino.com/news/show-htm-itemid-16847.html
EV| NIO's 200,000th production vehicle rolls off line
Date:2022-04-26  Author:ICCSINO
As of March 31, NIO's cumulative deliveries stood at 192,838 units.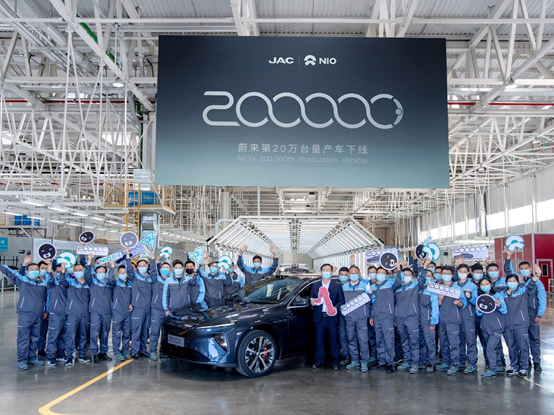 NIO saw its 200,000th production vehicle roll off the line today, just one year after it reached its 100,000th milestone.
The company's 200,000th production vehicle, a blue ET7 sedan, rolled off the production line at the JAC-NIO Advanced Manufacturing Center in Hefei, Anhui province, on April 26, NIO announced today.
From May 2018 to April 2021, it took NIO three years to reach the milestone of 100,000 mass-produced vehicles. Today, the company completed production of its second 100,000 vehicles in just one year, it said.
"The completion of 200,000 vehicles is an important milestone in NIO's full-speed development in 2022. This year, NIO plans to deliver the ET7, ET5 and ES7, three new models from NT2.0, its second-generation technology platform," it said.