Solarparts@-rigid series solar panel is made from SP highest-efficiency solar cells that can resist power loss coated with advanced encapsulation material with multi-layered sheet laminations to enhance cell performance and provide long-lasting durability. As a leading manufacturer of solar panel, SOLARPARTS uses corrosion-resistant aluminum material that can withstand the changing outdoor environment to improve the performance of solar panels and makes them more durable. And believe it or not, they also have an excellent performance in the low light environment. The following is the remarkable features of Solarparts@-rigid series solar panel: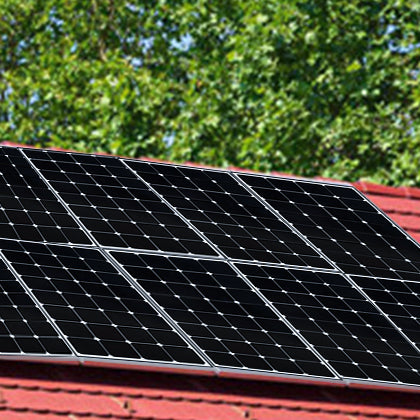 Features:
Solarparts@-rigid series solar panel is featured with anti-reflective, high transparency, low iron-tempered glass with enhanced stiffness and impact resistance. The sturdy panel can withstand high wind (2400 Pa) and snow loads (5400 Pa) . Corrosion-resistant aluminum material can withstand the changing outdoor environment and prolong its service life.
Solarparts@-rigid series solar panel adopts SP high-efficiency solar cells with high module conversion efficiency. The bypass diodes can reduce power drop caused by shade. It also has excellent performance in low light environment.
Solarparts@-rigid series solar panel is compatible with different mounting systems such as Z-brackets, Pole Mounts, and Tilt Mounts. Pre-drilled holes on the back of the panel allow you to quickly install solar panels.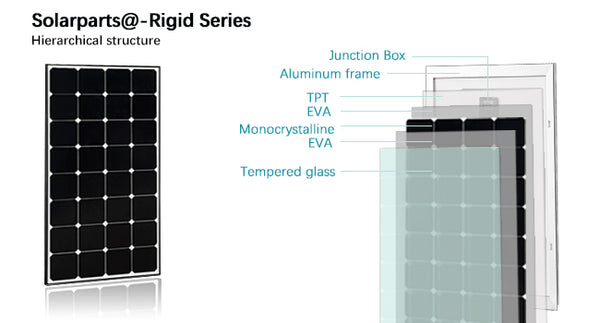 SOLARPARTS has complete quality management system and product certification. All of our serial products are certified by FCC, RoHS, CE, ISO and IEC to guarantee the security and quality of the solar panel. We aim to produce solar panel that is beneficial to environmental protection and energy-saving.
And you`ll find there are various application scenarios of Solarparts@- rigid series solar panel.They can be applied for rooftop, RV, Yacht and various outdoor activities. For Rooftop, they are compatible with on-grid and off-grid, not only can bring you electricity but greatly reduce your cost. For RV and Yacht, they are equipped with corrosion-resistant aluminum and waterproof material, so as to ensure solar panel can work efficiently in a complex environment.
SOLARPARTS makes sure that our products will not let you down. Contact us through the below information:
Phone: +86-13923729619   Fax: +86-755-28720791
WhatsApp: +86-13923729619  Wechat: 13510027129
Email address: Philip@isolarparts.com
Homepage: www.isolarparts.com