Made of mono cells and laminated with PET at the surface, Roicht@-CA Series solar charger is equipped with assembled eyelets on both sides. It can be hanged on backpack that makes it ideal for various outdoor activities.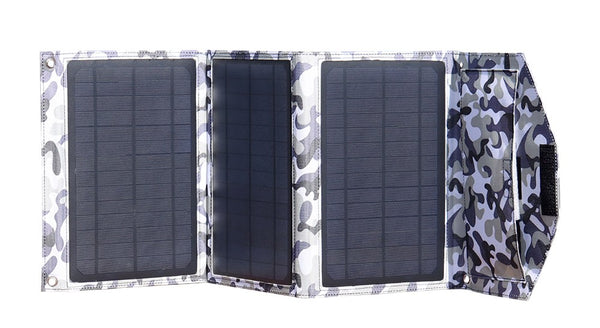 Features:
Roicht@-CA Series solar charger is covered by monocrystalline silicon solar cells, and the solar panel adopts multi-layered cell technology to generate energy from the sunlight and perform better with higher conversion efficiency that up to 23% than other conventional panels.
Roicht@-CA Series solar charger adopt the ETFE-laminated case that is durable enough to extend the lifespan of the solar panel. It is IP65 water-resistant that will protect from water splashing which extends the panel's lifespan and requires far less maintenance when compared to a PET exterior layer that is used by most portable solar chargers.
Roicht@-CA Series solar charger is compatible with various devices include iPhone, Android, Tablets and Camera, etc. Dual USB connectors makes it charge your phone or iPad convenient. It can be widely used in travel, camping, cycling and other outdoor activities.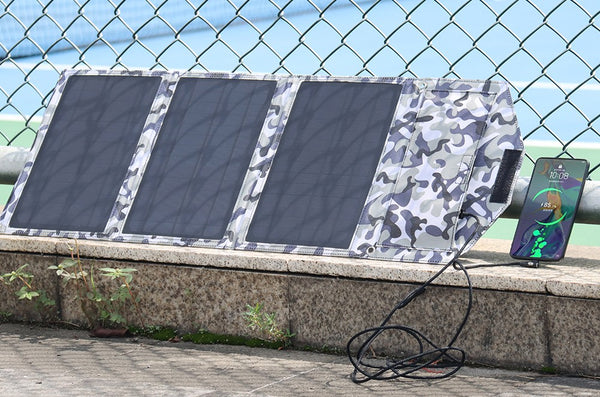 Roicht@-CA Series solar charger is the perfect accessory for your active lifestyle. You can charge your phones, tablets and all your USB devices during your outdoor adventures. It is essential for any disaster, emergency, and hurricane prep kit for survival. With Roicht@-CA Series solar charger as your personal power companion, you can simply plug in and power up and you can never be caught without power.
And all of Roicht@-CA Series products are certified by FCC, RoHS, CE, ISO, IEC to ensure safety, reliability and high quality, which is also beneficial to energy-saving and environmental protection. And we also have five-years warranty to ensure products you purchased can give you safe and constant energy output. SOLARPARTS always adheres to the business philosophy of "quality for survival and integrity for development". Therefore, we make sure that our products will definitely not let you down. Contact us through the following ways:
Phone: +86-13923729619        Fax: +86-755-28720791
WhatsApp: +86-13923729619    Wechat: 13510027129
Email address: Philip@isolarparts.com
Homepage: www.isolarparts.com