Going for road trips and camping is easier when you're riding camper vans and recreational vehicles (RVs). However, mobile home and van life enthusiasts need to have a source of electricity to power up their devices while on the road which is why many owners are using solar charger or solar panels. If you are thinking of utilizing solar power for your own van, here are some of the benefits of solar chargers for camper vans and RVs.
Easier traveling and more freedom
Many of us do road trips because there's so much more to experience going to different places. Enthusiasts go for the road in their camper vans and RVs with their family and friends so they can explore the wilderness. And one of the essential things you need for an outdoor activity like this is power supply. With solar power, you can have an unlimited power supply wherever you go. All you have to do is either install solar panels on your vehicle. Or you can even use portable solar panels, which you can fold and bring along with you in your camping setup. Having a solar charger offers you more freedom to move around, and you won't need to worry about going to stations since you charge it on-the-go.
SOLARPARTS Roicht@-IN series solar charger are made with SP highest-efficiency solar cells, which can deliver the most power and highest charging efficiency in their product class. It can be definitely the best choice for your outdoor adventures.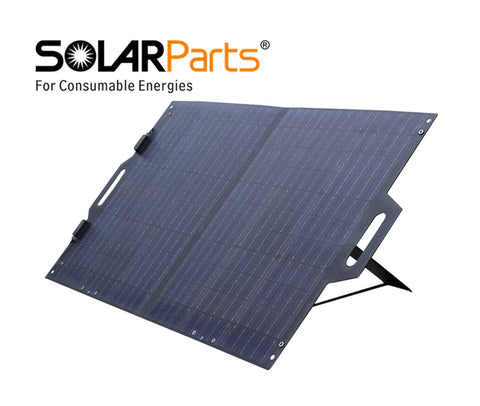 Cost-effective
Investing in solar panel installation on your camper or RV might appear to be expensive up front, but in the long run, you would reduce costs to use it, compared to using other means of power supply. It will only cost you the initial parts you would need to install in your vehicle such as solar panels, conductors, charge controller, batteries, power inverter, and etc. After installing these, you're basically going to use it for free forever if you maintain them well.
Lightweight and Portable
Camper vans and RVs have limited spaces to fit all necessities in one mobile. These vehicles are not big as our homes so we could only bring so much during road trips or camping. It's also challenging to drive when you're loaded with heavy equipment. But worry no more! Solar panels have lightweight components and would not take so much space, since you can install it on the roof of your vehicle.
SOLARPARTS Roicht@_BA Series solar charger are designed especially for outdoor enthusiasts in mind. It is featured with the folding design, the portable solar panel has a smaller area, is more convenient to carry, and can meet the needs to accommodate less space.
Minimal maintenance and silent equipment
Once you have installed the necessary equipment for solar power, you are already done with the spending. You will not move the solar panels if you have already installed it on your car, so maintenance will be the only thing you will keep in mind. Unlike gas-powered generators that are so noisy when you start using it.
SOLARPARTS Solar Charger
SOLARPARTS is the leading solar panel brand that empowers campers to go further beyond borders. SOLARPARTS takes technology as the driving force to empower the traditional manufacturing industry. We are committed to provide you the best products. Through the following ways to explore SOLARPARTS and our products:
Phone: +86-13923729619       Fax: +86-755-28720791
WhatsApp: +86-13923729619   Wechat: 13510027129
Email address: Philip@isolarparts.com
Homepage: www.isolarparts.com