A growing number of farms and agricultural businesses are looking to solar to power their daily operations. Thanks in part to the Solar Energy Technologies Office's investments, the cost of going solar has declined, enabling more installations across the country. Consider these questions to help you determine what's best for you and your farm.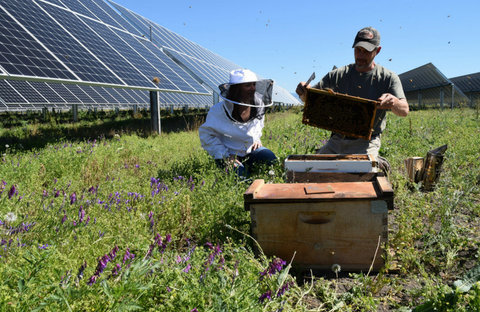 I LEASE MY FARMLAND. CAN I STILL INSTALL SOLAR PV?
Depending on the current land use of the lessee, solar may or may not be allowed on the site. If current farming operations are suitable for solar or unused land exists, solar may be suitable.

I CAN'T DRIVE MY TRACTOR THROUGH OR AROUND SOLAR MODULES. ARE THERE WAYS I CAN STILL INSTALL SOLAR?
Solar systems can be installed on marginal or salt-degraded land or at the margins of fields where no farming occurs. If there is a desire to grow crops underneath and in between solar modules, smaller tractors or hand management are options. There is no one-size-fits-all solar design and developers should account for land and farming needs in the design process.

I NEED TO BURN MY FIELDS EVERY YEAR. CAN I STILL INSTALL SOLAR PV?
You should not burn crops underneath or around solar installations; this could lead to electrical fires and damaged equipment. However, solar can still be installed at the farming site where no burning needs to occur. This need should be communicated to the solar developer upfront during the site selection process.

MY FARMLAND FLOODS IN THE SPRING. CAN I STILL INSTALL SOLAR PV?
Solar can be installed in flood plains, but all electrical equipment will have to be installed above the projected level of flooding. Raising equipment could increase the cost of installation and may negatively impact the project economics. Also, the cost of insurance will be higher for PV systems in a flooding area. An area that will not be flooded may be better suited for PV installation.

WHAT ARE THE IMPACTS OF DUST ON THE PERFORMANCE OF SOLAR PV MODULES?
Various levels of power generation loss due to soiling should be incorporated into PV system generation estimates. NREL's PV Watts soiling calculator uses an average soiling loss of 2%, but these losses are highly dependent on local weather and soiling conditions. Having vegetation underneath and around solar panels can reduce the levels of dust and soiling on panels.

CAN MY LAND BE CONVERTED BACK TO AGRICULTURAL LAND AFTER THE LIFE OF THE SOLAR SYSTEM?
Land can be reverted back to agricultural uses at the end of the operational life for solar installations. A life of a solar installation is roughly 20-25 years and can provide a recovery period, increasing the value of that land for agriculture in the future. Giving soil rest can also maintain soil quality and contribute to the biodiversity of agricultural land. Planting crops such as legumes underneath the solar installation can increase nutrient levels in the soil.

ARE THERE TRADE-OFFS OF RAISING SOLAR MODULES TO ACCOMMODATE CROP PRODUCTION?
Raising the height of PV modules can increase the cost of the solar installation. Due to the increased wind loading on higher structures, the length of steel foundational posts underground would likely need to be increased to accommodate the additional structural loading.