A growing number of farms and agricultural businesses are looking to solar to power their daily operations. Thanks in part to the Solar Energy Technologies Office's investments, the cost of going solar has declined, enabling more installations across the country. Consider these questions to help you determine what's best for you and your farm.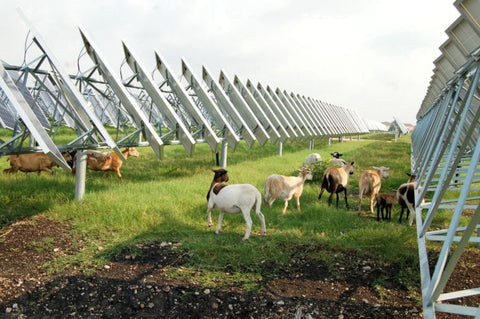 CAN YOU GROW NATIVE VEGETATION OR POLLINATOR HABITAT UNDERNEATH SOLAR MODULES?
Yes, solar installations can support native vegetation and pollinator habitat species. Low-height plants can thrive underneath solar panels, avoiding the need for mowing and keeping the panels unshaded. Two states (MN and MD) have developed pollinator-friendly solar certifications to promote planting of pollinator habitat underneath utility-scale solar projects. Pollinator habitat can benefit local farms and can also host beekeeping operations.

For more information about pollinator-friendly standards and practices for solar sites, visit the Center for Pollinators in Energy website.

WILL SOLAR MODULES DRIVE UP THE PRICE OF FOOD?
There has not been any documented evidence of solar modules increasing food prices. Solar projects planted with pollinator habitat can actually help increase local agricultural yields through increased pollination and other beneficial insect services. Two states (MN and MD) have already developed pollinator-friendly solar certifications to promote planting of pollinator habitat that can benefit local farms.

In addition, solar can provide several benefits to agricultural land managers that may offset capital costs of installing solar:

Solar can be installed with zero upfront capital cost through leasing.
Solar can be installed on marginal agriculture lands and provide a different source of revenue for the farm. This different revenue stream can offset operating expenses of the farm and provide economic resiliency in poor growing years.
Solar does not need to be installed on current or projected growing areas.
Co-location of solar and crops installations can be designed to optimize for both electricity and food production.
Shade under the solar modules can allow for planting high-value, shade-tolerant, and hand-harvested crops that may not normally be available in markets (i.e. lettuces in desert areas, etc.).
IS IT SAFE TO SPRAY AGROCHEMICALS NEAR SOLAR MODULES?
Herbicide is currently sprayed around some solar modules to prevent weed growth. Agrochemicals should not present an issue. Care should be taken to not spray modules themselves, but if it occurs the modules can be washed off with water as they are made of glass and steel or aluminum and have been designed to withstand outdoor conditions.

CAN SOLAR MODULES POWER MY IRRIGATION EQUIPMENT?
Yes, solar can power irrigation equipment. Solar can offset power required for pumping and provide power to remote irrigation systems, requiring no grid connection. Solar irrigation pumps are currently in use in Africa, South America, and India.