For a long time, solar energy has been regarded as the safest and most efficient energy source in human production. It can meet our consumer needs. Solar panels make it easy to power everything from electrical appliances to electronic products. Using a relatively simple household solar power system, you can capture up to 500 watts (or more) of energy per day. Most areas far away from cities choose this method to produce and sell electrical energy materials, and its commercial scale far exceeds expectations. More and more people are switching to solar energy that uses portable electricity. Solar panels are excellent results that help match demand.
In the consumer market, monocrystalline solar panels have the highest energy efficiency rating. For the most efficient solar panels on the market, please start your search with monocrystalline panels. Monocrystalline solar panels can convert sunlight into solar energy with the highest efficiency.
The 100-watt monocrystalline solar panel uses a lightweight aluminum frame to save space and reduce weight. The aluminum frame is durable and corrosion-resistant to ensure that the solar panels can be used outdoors for a long time. It makes these solar panels popular in RV installations, but they are also a good choice for roof installations and other applications. These popular solar panels are designed to withstand severe weather. It can withstand wind speeds of up to 130 miles per hour and snow loads of up to 125 pounds per square foot.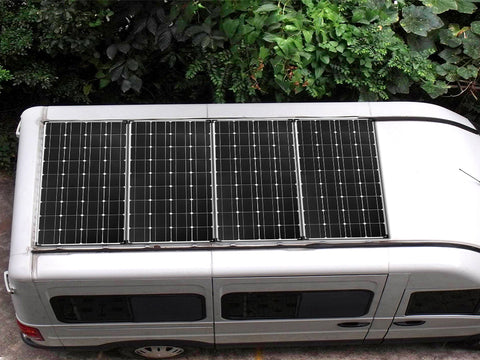 Are you still worried about power outages due to extreme weather? Are you tired of the short-term power supply capability of low-power charging devices? Do you travel long distances with a continuous power supply? For solar energy anywhere in the sun, please consider using portable panels. Portable solar panels are usually used for camping, outdoor activities, or off-grid purposes. They can be installed quickly and provide you with the power you need. Use it to charge your devices, operate LED lights, or power solar generators.
The 80W folding bag is a popular folding solar panel. This 80-watt model is lightweight and made of monocrystalline silicon.
Portable briefcase design
Unlike the large 80W solar panels on the market, it uses a 4-sided folding design, making it a small briefcase. For outdoor life, it is more convenient for people to carry. (It comes with a buckle, allowing you to hang it where you like.)
Wide range of equipment compatibility
It equips with multiple ports of connectors and cables, which is convenient for the charger to charge most of your devices.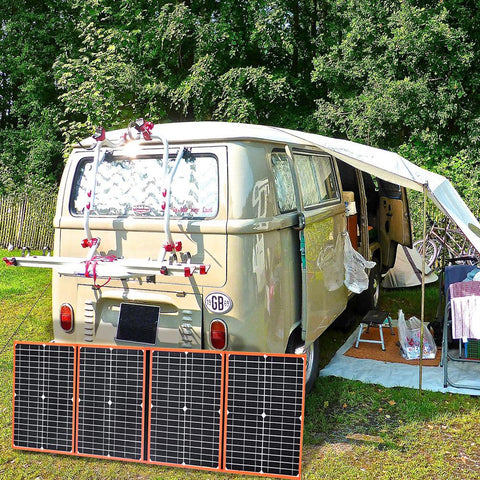 If you want to balance convenience and value, please consider this mini solar panel kit. It is essential for camping, backpacking, and hiking because these trips require users to put everything they need in a backpack. This kit includes a USB data cable and D-shaped carabiners. It is made of durable Oxford cloth. For easy transportation, the portable solar panel can be folded into a briefcase.