Hong Kong Electronics Fair in 2015
The photovoltaic industry is changing globally, and photovoltaic technology and the global market are shaping the future of photovoltaic products and services. Electronics Fair 2015 in (Hong Kong), SOLARParts demonstrated a comprehensive range of PV applications and attracted many customers.
Since its inception, SOLARParts has focused on innovation and customer needs. Our R&D engineers have been working with our sales teams and customers to improve product reliability and innovate photovoltaic solutions.
The "Charger-C" series of folding panels is SOLARParts' latest innovation. Its appearance is made of waterproof Oxford cloth for outdoor durability. Samples of these folding panels are expected to meet the needs of RVs, caravans, motor homes, trucks, golf cars, boats as well as all outdoor activities. They are portable and lightweight. The foldable solar panel kit with an integrated charge controller can charge a battery directly and also a USB output to charge mobile phones, tablets, and digital cameras.
We have also given a very cool design of folding panels. It delivers top performance and offers customers many powerful look features. 100W solar panel is equipped with a Crocodile clip,AD cable,10 different DC types output ports, and accessory socket, compatible with the most solar generators on the market, capable of charging most of your devices, including cell phone, tablet, in-car appliances, and 12V-18V storage battery. Greater to provide user portability.
The "Flexible" series of the solar panel is made of advanced encapsulation material with multi-layered sheet laminations to enhance cell performance and provide a long service life. The plastic back sheet can be curved to a maximum 30-degree arc and mounted on an RV, boat, cabin, tent, car, truck, trailer, or any other irregular surface. It uses the latest components packaging technology of the more thin, lightweight, and soft Fox and longer service life.
SOLARParts has always stood out among Chinese solar module manufacturers in terms of innovative technology, reliable products, professional service, and high market share.
At the scene, many friends come to exchange cooperation matters or place orders. Due to the quality of our products and our integrity management, many friends have become our regular customers.
Now, Let's join them with the following pictures.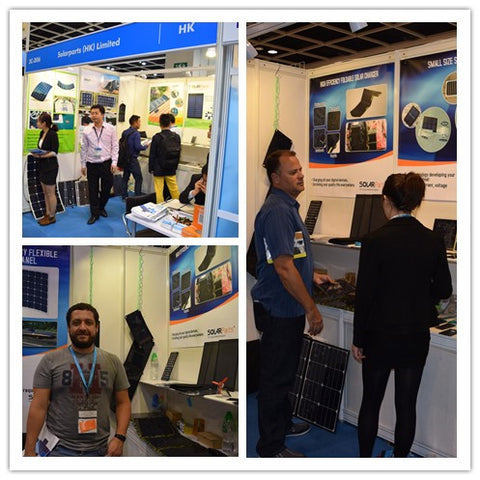 ---