Solar Workforce Development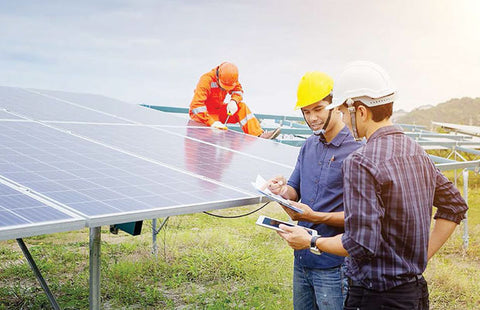 What is Solar Workforce Development?
Solar workforce development includes online training, on-the-job training, curriculum development, and other activities that prepare people for solar energy careers, advance their skills, and educate them on the ways solar energy impacts their jobs. While installation jobs comprise about two thirds of the solar workforce, there are many professions that range from power systems engineering and manufacturing to building and system design that work in solar energy, including roles in indirect and related fields such as real estate, finance, insurance, fire and code enforcement, and state regulations.

An innovative solar workforce is key to addressing challenges in solar adoption and will help to lower the soft costs, or non-hardware costs, of solar energy, which are responsible for nearly two thirds of the cost of solar installations. Learn more about how solar energy works.

Why is Solar Workforce Development Important?
As the number of solar installations in the United States continues to grow, there is more demand and opportunity for people to join the solar industry, as well as for those already in the industry to expand their knowledge. Additionally, as solar becomes more ubiquitous, it will continue to impact people working in other industries.

Professionals need access to high-quality, local, accessible training in solar energy system design, installation, sales, and inspection, as well as power systems engineering and related professions like building safety officials and first responders. Solar training and energy education play a crucial role in securing the future of solar adoption and achieving the goals of the U.S. Department of Energy Solar Energy Technologies Office (SETO).

SETO Research in Solar Workforce Development
SETO has funded educational and training programs for solar industry professionals in addition to professionals who work in fields that are impacted by solar energy. As a result of these funding programs, SETO has developed several workforce initiatives and other projects to grow the solar workforce:

Education Materials for Professional Organizations Working on Efficiency and Renewable Energy Developments (EMPOWERED) funding program – providing training and educational resources for first responders, safety officials, and building managers and owners working with distributed energy resources.
Solar Energy Technologies Office Fiscal Year 2018 funding program – preparing the solar industry for a digital future and modern grid while also providing installation training and job placement support to veterans and other groups.
The Solar Ready Vets Network – a group of solar workforce development programs that connect veterans and transitioning military service members with career training, professional development, and employment opportunities in the solar industry.
To view specific solar workforce projects, search the Solar Energy Research Database.
---