Since 2008, hundreds of thousands of solar panels have popped up across the country as an increasing number of Americans choose to power their daily lives with the sun's energy. Thanks in part to the Solar Energy Technologies Office's investments, the cost of going solar goes down every year. You may be considering the option of adding a solar energy system to your home's roof or finding another way to harness the sun's energy. While there's no one-size-fits-all solar solution, here are some resources that can help you figure out what's best for you. Consider these questions before you go solar.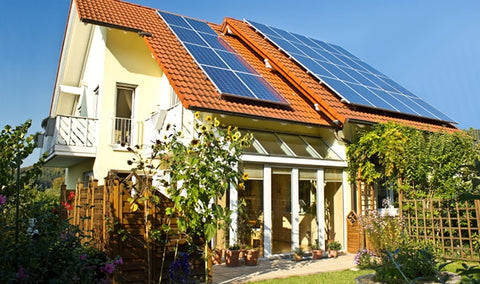 HOW DOES SOLAR WORK?
There are two primary technologies that can harness the sun's power and turn it into electricity. The first is the one you're likely most familiar with – photovoltaics, or PV. These are the panels you've seen on rooftops or in fields. When the sun shines onto a solar panel, photons from the sunlight are absorbed by the cells in the panel, which creates an electric field across the layers and causes electricity to flow. Learn more about how PV works.

The second technology is concentrating solar power, or CSP. It is used primarily in very large power plants and is not appropriate for residential use. This technology uses mirrors to reflect and concentrate sunlight onto receivers that collect solar energy and convert it to heat, which can then be used to produce electricity. Learn more about how CSP works.

IS MY HOME SUITABLE FOR SOLAR PANELS?
Solar panels are built to work in all climates, but in some cases, rooftops may not be suitable for solar systems due to age or tree cover. If there are trees near your home that create excessive shade on your roof, rooftop panels may not be the most ideal option. The size, shape, and slope of your roof are also important factors to consider. Typically, solar panels perform best on south-facing roofs with a slope between 15 and 40 degrees, though other roofs may be suitable too. You should also consider the age of your roof and how long until it will need replacement.

If a solar professional determines that your roof is not suitable for solar, or you don't own your home, you can still benefit from solar energy. Community solar allows multiple people to benefit from a single, shared solar array that can be installed on- or off-site. Costs associated with purchasing and installing a solar energy system are divided among all of the participants, who are able to buy into the shared system at a level that best fits their budget. Learn more about community solar.

Those interested in community solar can take advantage of a tool from awardee EnergySage. The company's Community Solar Marketplace aggregates the many available options in one place and standardizes project information, allowing interested consumers to easily locate and compare multiple community solar projects in their area.

HOW DO I START THE PROCESS OF GOING SOLAR?
There are a number of mapping services that have been developed by SETO awardees that will help you determine if your roof is suitable for solar and can even provide you with quotes from pre-screened solar providers in your area. In addition to those resources, an internet search can help you find local companies that install solar panels. Because you will likely have many options to choose from, it's important to thoroughly read reviews of solar companies to make sure you are selecting the best fit for you and your home.

Solar co-ops and Solarize campaigns can also help you start the process of going solar. These programs work by allowing groups of homeowners to work together to collectively negotiate rates, select an installer, and create additional community interest in solar through a limited-time offer to join the campaign. Ultimately, as the number of residents who participate in the program increase, the cost of the installations will decrease.