A growing number of farms and agricultural businesses are looking to solar to power their daily operations. Thanks in part to the Solar Energy Technologies Office's investments, the cost of going solar has declined, enabling more installations across the country. Consider these questions to help you determine what's best for you and your farm.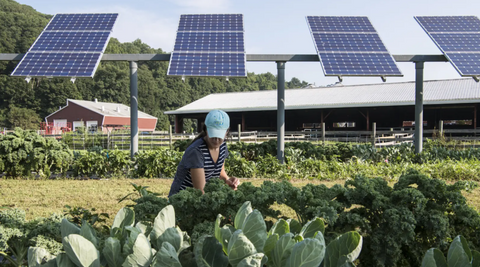 WHAT ARE THE BENEFITS OF CO-LOCATING SOLAR AND CROP PRODUCTION?
There are different benefits of co-locating solar and crop production for solar energy developers and farmers.

Benefits to solar developers include:

Reduced installation costs – The use of previously tilled agricultural may prevent the need for expensive grading to flatten land to a usable level.
Reduced upfront risk – Geotechnical risks can increase the cost of solar installation due to increased testing needs. Previously tilled agricultural land was identified as the "least risk option" during a series of surveys with solar installers.
Reduced legal risk – By using previously disturbed land, solar installers can reduce the risk of up front litigation during the environmental review process.
Potential increase PV performance – Vegetation under modules can contribute to lower soil temperatures and increase solar performance.
Benefits to agricultural land managers include:

Reduced electricity costs
Diversification of the revenue stream
Increased ability to install high-value, shade- resistant crops for new markets
Marketing opportunity to sustainability-mindful audience
Ability to maintain crop production during solar generation
Allow for nutrient and land recharge of degraded lands.
Potential for water use reduction
Potential to extend growing seasons
You can read more about the efforts to site solar and agriculture through the Energy Department's InSPIRE project

WILL SOLAR MODULES CONTAMINATE THE SOIL UNDERNEATH OR AROUND THEM?
Silicon-based PV cells are the most widespread solar photovoltaic technology used. Most solar panels have a glass front that protects the PV cell and an aluminum or steel frame. Research shows that "leaching of trace metals from modules is unlikely to present a significant risk due to the sealed nature of the installed cells."

Some solar modules use cadmium telluride (CdTe). Cadmium compounds are toxic, but studies show that such compounds cannot be emitted from CdTe modules during normal operation or even during fires. Industrial incineration temperatures, which are much higher than grassfires, are required to release the compounds from the modules.

CAN SOLAR MODULES CHANGE THE MICROCLIMATE UNDERNEATH THE MODULES AND WORSEN INVASIVE SPECIES, FUNGAL, NEMATODE OR OTHER PEST PROBLEMS?
There have been relatively few studies on microclimate effects under solar modules, but current research results show there is little to no average impact. Air temperatures tend to be cooler under the panels during the day and warmer under the panels at night. One study found that air temperature, humidity, and crop temperature under modules was similar to conditions of full sun. This study found that soil temperatures at night under the modules was less than that of soil temperatures in full sun all day. There have been no studies linking solar development with pest problems, but studies have shown how native plants can thrive underneath solar installations.