Angela Symons
Sat, 11 November 2023, 11:00 pm
 From community solar farms to co-owned wind turbines, eco-inventors are coming up with new ways to bring renewable power into our homes.
Now, micro wind turbines designed to look like trees are addressing some of the challenges of green energy.
"As it is biomorphic, people cannot see at the first look that it is a renewable system," says Luc Eric Krief, owner of New World Wind, the French company behind the 'Aeroleaf' technology.
The metal 'trees' have branches tipped with micro wind turbines resembling leaves.
"There is no visual pollution and we can install a bench around the tree for people to sit on," continues Krief. The colour of the trunk and leaves can also be customised.
But the turbines' looks aren't their only appeal.
At between five and 10 metres tall, the trees are compact, making them easy to install - even in urban environments - without major engineering work. Once a turbine is in place, a single bracket and three bolts are all that's needed to complete the construction.
Their size also eliminates some of the other problems faced by giant turbines, such as bird collisions. Plus, they operate in silence.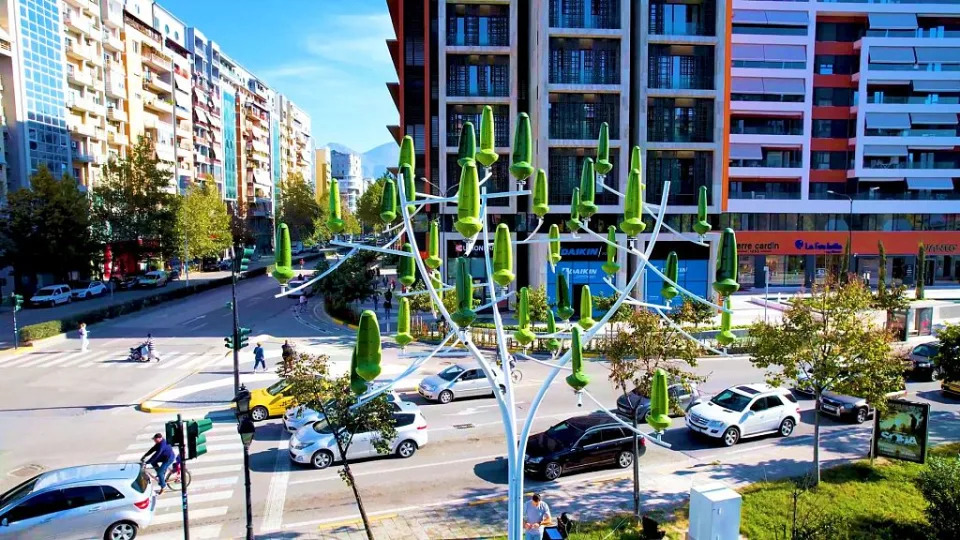 A WindTree blending in with its surroundings in Hong Kong. - New World Wind
How much energy can a micro wind tree generate?
Rather than being connected to the national grid, the turbines provide energy directly to a building's existing electrical system. "This is what we call self consumption," explains Krief.
The aeronautic engineer, who acquired the company in 2017, is set to release a new design in January that will see the Aeroleaf's power production triple. One leaf will be capable of producing up to 1,000 kilowatt hour (kWh) per year, giving the 36-leaf WindTree a maximum annual output of 36,000 kWh at a wind speed of 12 metres per second (m/s).
'A new dawn': Here's how architects are rising to the challenge of building during climate breakdown

Portugal sets 'important' new renewable energy record as production outstrips demand
While it's unlikely that wind conditions would remain steadily high around the clock, in regular conditions of 8 m/s, one WindTree could produce almost 18,000 kWh per year, enough to power a four-person household. This could reduce a home's annual CO2 emissions by over 12 tonnes.
For comparison, a 4 kW solar power system on an average-sized house can produce up to around 3,000 kWh of electricity per year, according to Project Solar UK.
The secret to the micro turbines' power output is their ability to work around the clock.
"Solar panels can work between 10am and 4pm… with our technology, we can provide energy seven days a week, 24 hours a day," says Krief. "And if we create more energy than we can consume during the night or day, we can store it inside the battery," which has a 60Ah capacity - or around 45 minutes to one hour in normal conditions. Each tree has four batteries.
A hybrid version of the tree offers even greater stability. With solar petals fixed beneath the turbines, it harnesses the power of both the wind and the sun.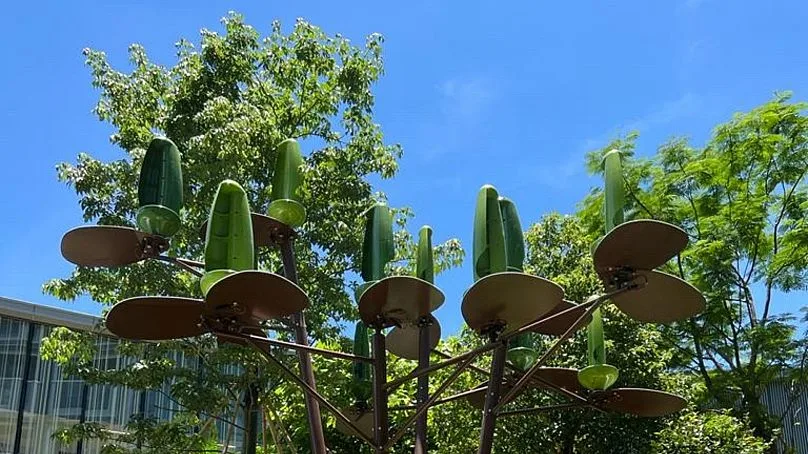 A solar-wind hybrid tree in Colmar-Berg, Luxembourg. - New World
How much does a micro wind tree cost?
This year, New World Wind was recognised by industry magazine Energy Business Review as one of the top 10 energy sustainability solutions providers in Europe.
So far, the company has installed 130 devices around the globe, from Europe to the US to South Korea. Most of the company's clients are commercial - including British American Tobacco in Italy, Phoenix Contact in Germany, Deloitte in the USA, and L'Oreal in France.
To date, they have also installed three wind trees residentially in Birmingham, UK; Vermont, USA; and Switzerland.
'A bright future for the plant': Giant solar space farm could be orbiting Earth by 2035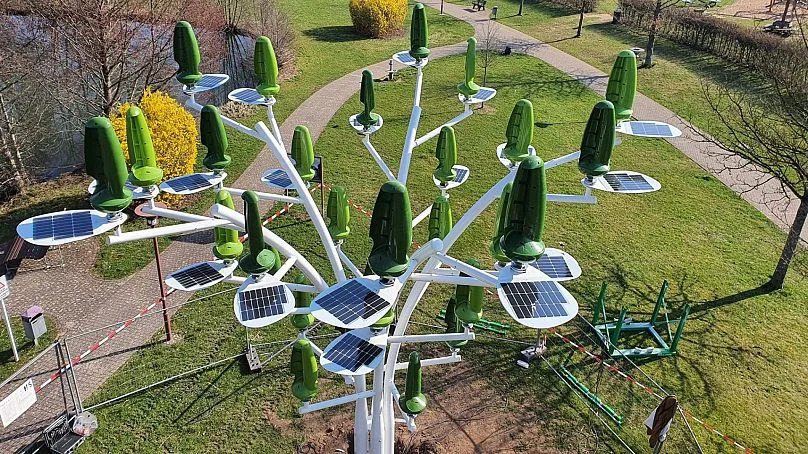 While the micro wind turbines offer a greater energy output than solar panels, the emerging technology also comes at a higher price.
A single Aeroleaf costs €795, a 36-leaf wind tree is priced at €51,990, and a hybrid solar WindBush with 12 leaves costs €24,500.
A 4 kW solar panel system typically costs between £6,000 and £8,000 (€6,900-9,200), according to Project Solar UK.
As New World Wind grows, with plans to expand into the Americas and take advantage of US President Joe Biden's Inflation Reduction Act over the next year, wind trees could become a more familiar sight on streets and in gardens around the world.
Frequently Asked Questions
Scientists in Palestine say that controlled tests show that bifacial solar panels produce 6.81% more electricity than monofacial PV modules.
For a brief period over several weekends this spring, the state of South Australia, which has a population of 1.8 million, did something no other place of a similar size can claim: generate enough energy from solar panels on the roofs of houses to meet virtually all its electricity needs.
Solar panels connected in series are linked end to end. The current remains the same as that of a single panel. In a parallel configuration, solar panels are connected side by side, with the positive terminals connected to each other and the negative terminals likewise.
To learn more about photovoltaic power generation, please follow SOLARPARTS official website:
Twitter: Solarparts      Instagram: Solarparts
Tumblr: Solarparts      Pinterest: Solarparts
Facebook: Shenzhen Solarparts Co., Ltd.
Email address: Philip@isolarparts.com
Homepage: www.isolarparts.com