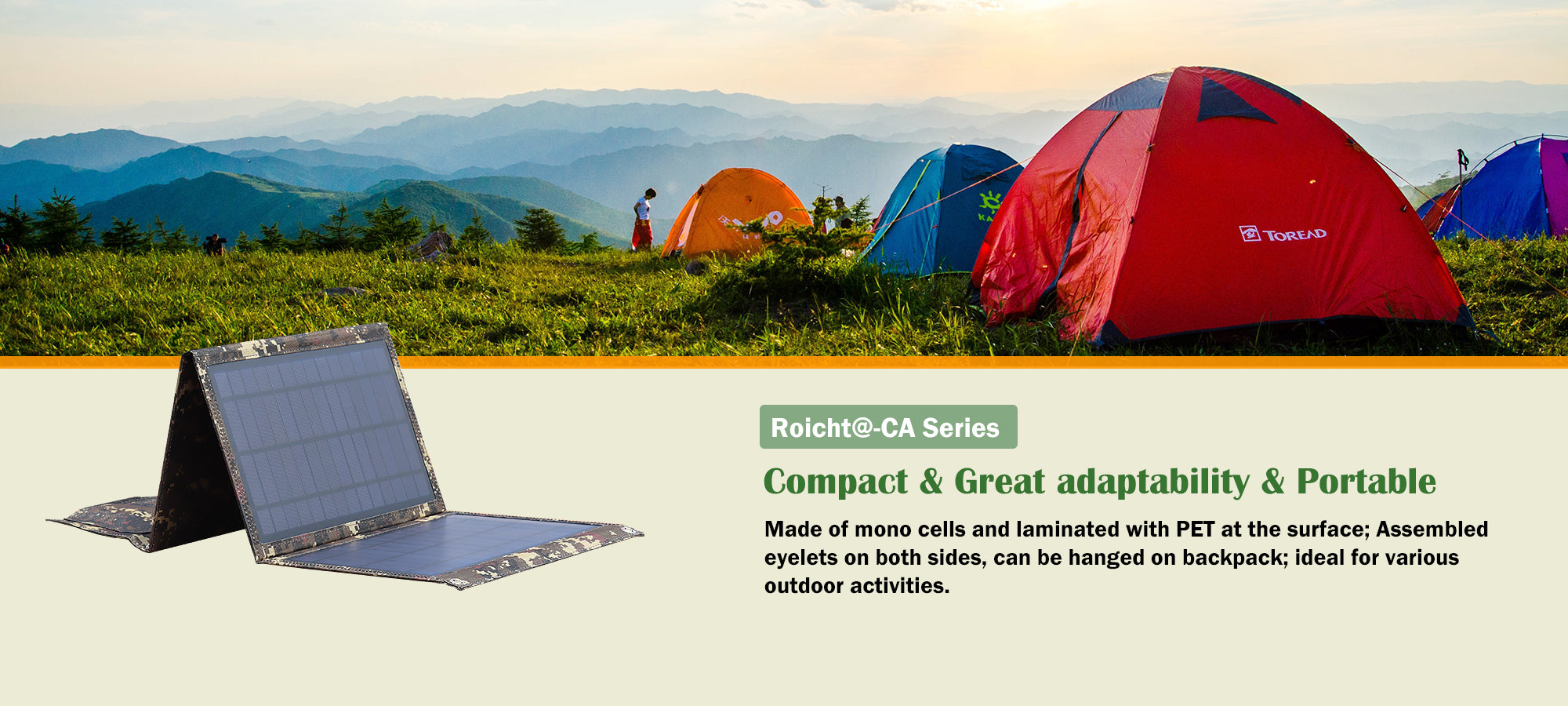 Portable solar panels-Roicht@_CA Series
Roicht@_CA Series portable solar charger uses MPPT regulator box, with USB QC3.0 charging function, faster-charging efficiency, and conversion efficiency. The surface is made of PET material, which is treated by a special process to make it more wear-resistant and improve the absorption efficiency of sunlight. The middle is made of PCB, which is more durable.

   

Fast , Efficient Charging, Portable and Lightweight
-- High Conversion Efficiency. The high efficiency of Monocrystalline solar cells that reaches 20-22% of conversion efficiency while providing enough power rate. It is faster-charging efficiency and conversion efficiency.
-- With compact size and lightweight design, the foldable solar panel charger is small and light enough to fit into any camping backpack, hiking daypack, They're also good for stashing in an emergency kit.
 

HOW TO USE 5V DEVICES SUCH AS MOBILE PHONES?

1. Insert the USB charging cable into the USB output port of the folding solar panel.

2. Plug the other port of the USB charging cable into the device that needs to be charged.

3. Place the foldable solar panel in the sun and try to make the panel face the sun as much as possible to prevent obstruction by obstruction.
PRODUCT SPECIFICATIONS
| | | | | | | | | |
| --- | --- | --- | --- | --- | --- | --- | --- | --- |
| Image | Product Name | Model | Cells Efficiency | Surface material | Dimension (MM) | Solar cell | Weight | Warranty |
| | 7V 14W Solar panel folding bag | 205020089 | 22% | PET | 290*195*3 | Mono | 0.6kg | 5 year |
 Application
Compatibility and wide availability. It can be widely used in travel, camping, mountaineering, movement on foot, cycling, leisure, sports, and other outdoor activities.Compatible with iPhone , Android ,iPad,Tablets, power bank ,Camera ,5V devices etc.
Advantages